We want you to feel right at home. So why not get to know our team members before your first appointment? Review their qualifications, bios, and hobbies below. When you come into our offices for your first time, you'll only see familiar faces.
At Abundance Chiropractic, we are thrilled to be part of the Pinellas Park, St. Petersburg, and Clearwater, FL communities. We believe that being part of these communities involves giving back to our neighbors. As such, we've taken the time to list our contributions to these incredible communities below.
Dr. Andrés Juliá was born and raised on the island of Puerto Rico. After completing his pre-med studies at the University of Puerto Rico, he decided to move to Marietta, Georgia where he earned his doctor in chiropractic degree from Life University in the fall of 2016. His dream was to open his own practice in Puerto Rico soon after.
Unfortunately, the island was hit by Maria, the strongest hurricane the island had witnessed in decades. Faced with a tough decision, he decided to leave the island and take a position as an associate doctor at Elevate Chiropractic in Fort Collins, Colorado. Being the largest chiropractic facility in Northern Colorado; he developed a huge understanding for taking care of children, pregnant moms, athletes, and families in general. He's accumulated hundreds of hours in courses related to Webster Technique, Spinning Babies approach, advanced perinatal care, ICPA courses, Activator Protocol, SOT Protocol, and Torque Release Technique.
After working 2 years in Colorado, Dr. Andres knew it was time to open Abundance Chiropractic, his very own facility; mimicking everything that made Elevate Chiropractic special. With the help of his girlfriend, Genesis, they decided that the best place to move and settle would be in beautiful St. Petersburg, FL. When he's not adjusting at the office, you'll find him serving at his church, sipping coffee at his favorite coffee shops, or you might actually find him watching a MMA fight, which he loves to watch.
I want Abundance Chiropractic to be a place where people feel that they belong. That they know that they are special and that they will be taken care of regardless of their condition or ability to pay. I owe this to many people and it's my responsibility to give them nothing but my best.

- Dr. Andrés Juliá
chiropractor
john macphee D.C.
Hi I'm Dr. John! I love to work with people who are looking for a different solution to their health problem. I love to help them see their problem through a different lens; one that is based on 25 years of studying and learning about the science and art of building a healthy body.
I started my education at one of Canada's tier 1 healthcare institutions - McMaster University, where I completed my BSc in Kinesiology. This is where I developed my fascination - some might say infatuation - with what makes the body tick.
Looking to combine my growing interest with some adventure, I moved half-way around the world, to Perth, Western Australia where I spent 4 years training at the state-of-the-art Murdoch University School of Chiropractic.
Along with the rigors of regular study, I also managed to attend over 25 extra-curricular seminars, conferences and courses to further my understanding of Chiropractic and it's powerful role in restoring and maintaining optimum health.
My love of learning turned into a love of teaching and that's what my clients seem to value most: my ability to help them understand so that they can make better choices when it comes to their health.
For over a decade I was the co-owner of The Wellness Group in Ottawa, Canada where we built one of the largest wellness clinics in the nation's capital.
Looking for a change, My wife Vivienne and I decided to move our family to the great state of Florida in 2022 where I joined the Abundance team.
My passion for teaching continues to evolve and you can often find me in local businesses and community groups running workshops on everything from nutrition, exercise as well as managing stress both at work and in life.
If you're dying to know more, here's 5 random things you don't know about me:
I actually grew up on tiny island called Prince Edward Island and have a family full of lobster fisherman.
I was raised a vegan and was vegetarian until my 31st year… and now my fav
food is steak!
In a former life I played bagpipes in a Celtic rock band called Slainte Mhath (weirdest band name I know - it's pronounced slawncha va). If you search hard enough you'll find some tracks online...
I have a secret guilty pleasure for children's fantasy books and have read the entire Harry Potter series several times... (and the Narnia books... and the Throne Of Glass books...)
Growing up my favourite sport was sailing and I spent most of my summers exploring the NorthEast Coast from Newfoundland to Bermuda to Boston and most points in between!
chiropractor
maria wong D.C.
Born in Peru and raised in sunny South Florida, Dr. Maria's journey into chiropractic care was inspired by her desire to help others achieve optimal health and lead fulfilling lives. Her multicultural background instilled in her a deep appreciation for the interconnectedness of the mind, body, and spirit—which profoundly influences her patient-centered care philosophy.
Upon graduation from Florida State University, Dr. Maria pursued her dream of helping others at the renowned Sherman College of Chiropractic, where she immersed herself in the art, philosophy, and science of chiropractic. It was there that she delved deep into the world of gentle, nervous system-focused chiropractic care and gained valuable insights into the body's innate ability to heal and thrive.
With her nurturing and empathetic nature, Dr. Maria loves caring for all ages, but finds special joy in caring for little ones and pregnant mommas. She also loves to work with athletes and those who prioritize a more holistic and proactive approach to their health.
Outside of the office, Dr. Maria loves to explore new parks with her boyfriend and dog, work out, walk around downtown, or spend time by the water.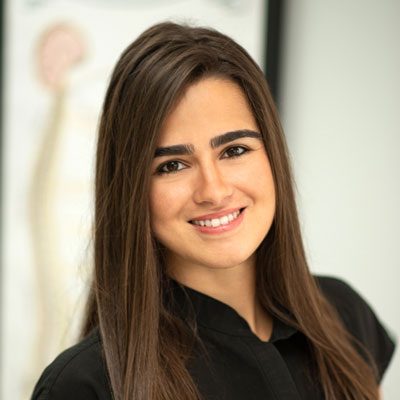 Chiropractic Assistant
Génesis Reyes
Génesis Reyes was born and raised in the island of Puerto Rico. She attended DePaul University in Chicago, IL where she played D1 Volleyball and obtained her bachelor's degree in Public Relations & Advertising in the summer of 2014. Génesis is the Co-Owner at Abundance Chiropractic and, more often than not, you will find her smiling at the front desk.
She loves to travel, work out and meet new people. Génesis is also a Barista and when she's not in the office, she enjoys visiting new coffee shops in different towns.
I am so thankful and honored to join Dr. Andrés, in serving the beautiful community of Pinellas County with natural health care. I have experienced, firsthand, the benefits of chiropractic care in my life, and I'm excited to see it benefit this community. I look forward to meeting you and your family!

– Génesis Reyes
OFFICE HOURS
---
Monday
10:00am - 12:00pm
3:00pm - 6:00pm
---
Tuesday
10:00am - 12:00pm
---
Wednesday
10:00am - 12:00pm
3:00pm - 6:00pm
---
Thursday
3:00pm - 6:00pm
---
Friday
Closed
---
Saturday
Closed