The Webster Technique in Pinellas Park

The Webster Technique in Pinellas Park provides a chiropractic adjustment option for pregnant women. It can ensure a safer, smoother, and easier pregnancy. Dr. Andrés Juliá is very experienced in this technique and has used this method for many years. At Abundance Chiropractic, our team participates in regular training relating to the Webster Technique. This guarantees that we stay up-to-date on the latest standards relating to the Webster Technique, helping you have a happier and healthier pregnancy.
---
Understanding Webster Technique in Pinellas Park
The Webster Technique is a chiropractic technique that realigns the pelvis and the sacrum. With regular Webster Technique adjustments throughout your pregnancy, you may have an easier labor and faster birthing process. As part of our mission at Abundance Chiropractic, we strive to deliver the best care possible. This is why Dr. Andrés Juliá uses the Webster Technique. It's safe and effective, and improves the well-being and health of mom and baby.
---
How Webster Technique Works
This technique creates space for the baby in the uterus. This allows your baby to take on the proper position, providing optimal comfort for the mom and a less complicated birth. No force is directly applied to the baby. The Webster Technique, instead, works to decrease tension and stress in the uterus by alleviating lower spine and pelvis misalignments. When your spine is repositioned to its proper curvature, your body is able to communicate properly with the brain and vice versa. This leads to better health and functioning overall.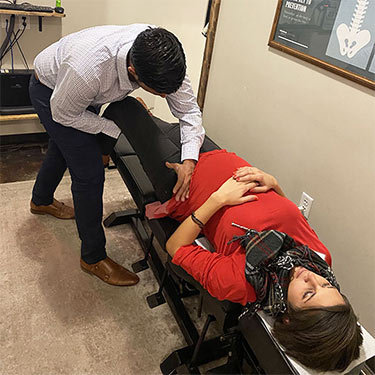 ---
Improving Your Spinal Health
With improved spinal health, you can lead a more comfortable and healthier pregnancy. Regular chiropractic adjustments throughout your pregnancy can help you obtain a higher state of health, as well as allow your child to enter the world with less stress. Optimal spinal health improves your entire body health and the health of your baby.
---
How Quickly Does It Work?
The Webster Technique often leads to a healthier and more comfortable pregnancy. The time frame in which it works may vary depending on when you begin receiving chiropractic adjustments and the seriousness of your pain or discomfort. At Abundance Chiropractic, Dr. Andrés Juliá encourages pregnant women to come in for regular adjustments. Even after birth, chiropractic care can help you recover and heal faster and better.
OFFICE HOURS
---
Monday
10:00am - 12:00pm
3:00pm - 6:00pm
---
Tuesday
10:00am - 12:00pm
---
Wednesday
10:00am - 12:00pm
3:00pm - 6:00pm
---
Thursday
3:00pm - 6:00pm
---
Friday
Closed
---
Saturday
Closed